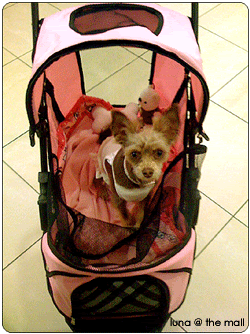 i took Luna to the mall a few weekends ago and boy did she love it~!
she didn't have to worry about walking around or getting bumped into because i got her a cute little stroller she can feel safe in. plus being stuffed in a bag can be quite stressful and those 6-7 lbs of fabulous Lunaness eventually start getting heavy. ;)
we got a wide range of reactions from people: adorable, funny, silly and plain weird~!!
any thoughts on doggy strollers??