so last night i channeled my inner puddles/sid and decided to rip up some napkins while mum and dad went to 7eleven. oh! and mum left a little bit of cereal in a bowl on the desk too, so i helped myself to the milk.
well, when my pawrents came home i was very happy to see them but, mum told me i was a "bad girl--no no you bad girl! you don't eat mummy's food--go to your bed!!" she picked up the napkins i shredded and asked me, "what is this--huh??" i looked away because i knew i was in trouble. after a few seconds i gave her "the puppy eyes":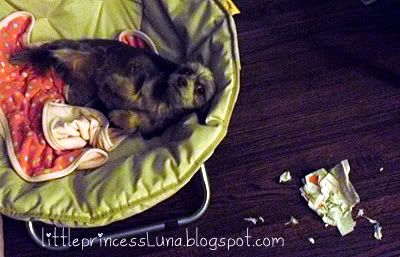 but it didn't work. she was still mad....i had to sit in a time out for a loooong time: 5 minutes!!
but, was it worth it? i must admit that it was.