mum has been a tad too busy w/ a visitor, so she hasn't had a chance to take a picture of me....but we did bring a game for sugar's birthday party:
(
mum and i hope that is ok w/ sugar....
)
so the little visitor that is keeping mum busy is:
no, not chewbacca--my brofur, scooby!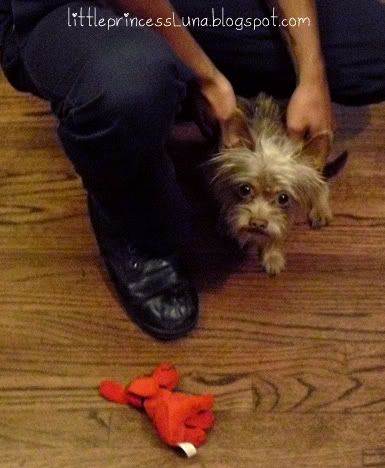 we are going to puppysit scooby for 2 weeks because his mum (my dads cousin) is on vacation in this far away place called el salvador. scooby came home last night and he cried ALL night. he has been crying because he misses his mum, but we are trying to comfort him as best we can. i even tried to play with him but he is still shy. even though mum did miss out on a lot of Z's last night, she is being patient and giving scooby lots of love (im soooo jealous) in hopes that he will soon pep up and not cry so much (note from ms. j:
especially at night--haha
).