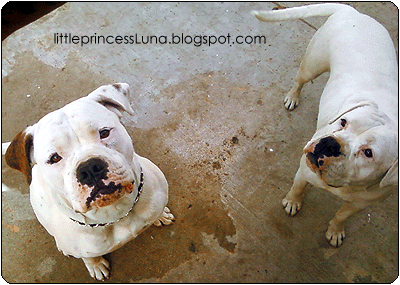 hi theres furends! sid heres!!
coco: hey! don't forget about me! sheesh....
luna: MUUUUM--sid called me a "princess pink barf" again and he's on my blog--i better not find white hairs and slobber on it.
sid: liars furs on fire!! and i'll even toot on it if it will makes you happy! HAHAHAHA!! well anyhows,

barfypants

ain't the only one that gots to pick out pressies. I sended a pressie to my puddles piddles duddles diddley doo dums somefurry as wells--and it's waaaay cooler too!!
luna: sid, you have no fashion sense or know what girls like. all you do is eat, sleep and poo.
sid: i poos on you.
luna: you'ra a jerk!
sid: i know.
luna: *grrrr* well, remember how you were asking me for barkvice? i'm not going to help you anymore!
sid: i am a manly dude that likes getting cuts/bruises and rolling in the dirt and tackling cocos and knows what girls like! i done it all by myselves!! i don't needs a hairy

gremlins

help!!

maybe only dads....
luna: MUUUUM--sid called me a "gremlin" again!!
sid: liars furs on fires!! and anyways, dad calls you that too!
luna: not anymore because mummy told him that it hurts my feelings, and anyways, he loves me.
sid: w/e short stuff--he loves bullies more.
coco: omd....someone save me....