first of all--a big thank you to everyfurry that commented the picture on my last post. you all made me blush with your lovely compliments!
mum took me for a walkie yesterday and she took a short video of our stroll around the neighborhood. since mum was going to take a video, i had to wear my pink harness just in case i see some other pups, she can control me better. sometimes i can be a bad princess and not listen when she tells me to "come":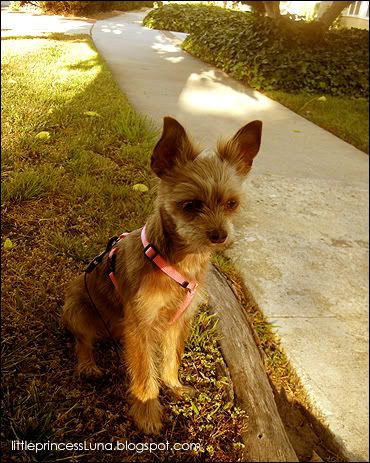 now, is everyfurry ready to go? have your leashes and harnesses on? ok then....
(please click "let's go!"--mum can't post my video for some reason....)
see? i can be a little brat and not listen when mum calls my name(s). oh! and i started to pull her so she could hurry it up because i saw some pups and wanted to catch up to them--but unfortunately you couldn't see them in the video. :(
(aaaand mum wants to apologize because she was wearing some baggy clothes that were definitely not chic.)
the walk wasn't vey exciting, but i hope everyfurry enjoyed our afternoon stroll in my california neighborhood!