everyfurry--i am back (mum too)!
i have missed you all so furry much!!!!
mum and i apologize for being away. you see, mum was kinda lacking the picture inspirations and felt like her photography sucked as of late. but i talked to her and she is all betters now--she remodeled my blog, made a new "little princess Luna's PAWSOME Award" and even took a new picture of me nekkid (please excuse my unruly fur--i will be visiting the groomer lady this weekend):
now speaking of awards--i would like to announce the lucky pup to recieve my "PAWSOME" award.
and the 2nd winner is....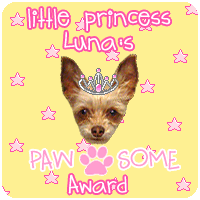 i can't wait to pick the next lucky "wiener"--you might be next! :)