1. Thank the puppy, kitty or person who gave it to you:
but i would also like to thank everyfurry that has added me and stops by everyday to leave wonderful comments--because of all of you, i always strive to make my blog entrys/pictures as fun as possible! :)
2. Share 7 things about yourself:
1. i was rescued by my mum when i was a 4 month old baby. i was very shy and afraid but now i am more confident.
2. i have a pink stroller.
3. i love the colour pink!
4. i didn't use to like toys (they scared me). but now, i love them--especially the ones that rattle.
5. i do not like to get touched by strangers.
6. i always run over to my drawer after mum towel dries me so she can pick out an outfit for me!
7. i like chewing and shredding paper--toilet paper, lined paper, paper towels....you name it.



3*. Pass the award along to 8 bloggers who you have recently discovered and you think are pawsome:


1. The Pibbles&Wees @ kissa-bull
8. My Sweet Maggie Mae @ Maggie Mae Says (link above)



4. Contact the bloggers you picked and let them know about the award.
*please know that i think everyfurry that drops by my blog is great and i changed it from 15 to 8. *wink*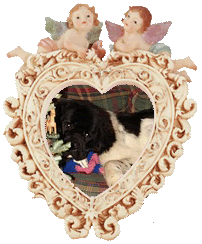 on a sad note--my boyfurend Leo's big sister, Lady Cheyenne, is very ill. he called me last night to let me know that she has a tumor on her spine and can't get up anymore.
he said the doctor will come by his house sometime today and help her go to sleep to end her pain and suffering....
please pray for Lady Cheyenne, Leo and his family.