i made a new "furend" this afternoon while out on a stroll. it all started like this: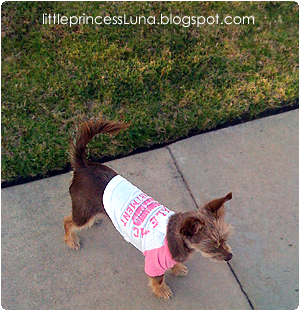 mum and i were walking along, when i heard somthing behind a tree!
i quickly investigated! the smell was getting stronger: a funny smell of leaves and seeds and nuts....*sniff sniff*
aha! i found you mr. squirrel! the arch nemises of any dog--the squirrel.
i was getting ready to pounce on mr. squirrel when i heard mum squeak. the type of squeak that says, "OMG--so adorable! i have an idea!!"
i was too slow at running away and next thing i know: