this morning mum woke me up to tell me that today we were going to go shopping. she asked me if i was ready to GO and i gladly jumped out of bed. i twirled and jumped happily. i love going out!
we drove off and the next thing i know i am being handed over the the lady that trims my fur. i was very upset with my mum. she tricked me--she was really taking me to the groomer!
after a loooong hour mum picked me up and i was still very upset despite smelling real good and feeling extra soft. after we left, mum went to get her hair done. and i sat there with her for a very loooong time. mum painted her hair a different color. she asked me if i liked it and i thought, "mummy, eventhough you trick me into going to the grommer lady and always ask me to stay still for pictures, i will love you no matter what!"
after that i got the surprise of my little life! we went shopping! so i guess she really didn't lie to me. boy do we love shopping!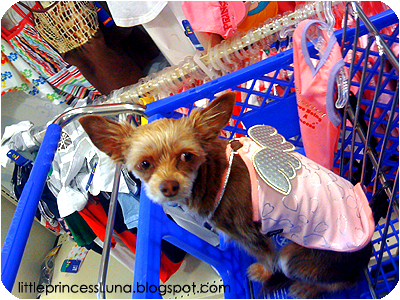 we saw lots of clothes and mum got me a pink tank top.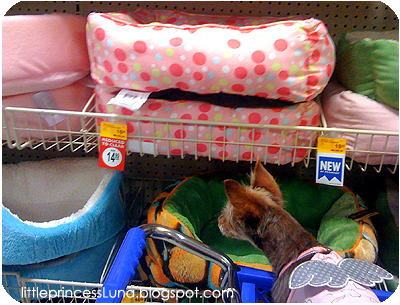 i told mum i want the spotted one. she told me that we have to donate my old bed first and then she'll buy me whichever one i want.
(i got to choose a treat.)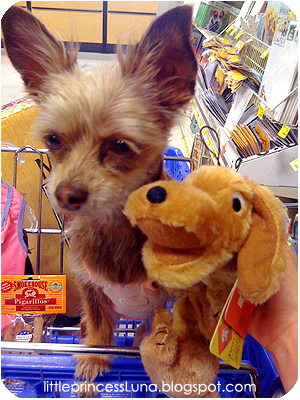 and then guess what?
we found Lorenza! :)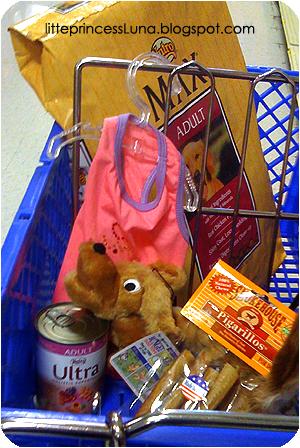 check out my loot. pretty impressive huh?
it sure was a busy day for me and mum.
and as tired as i am now, i wouldn't think twice before going out again!