so yesterday i wrote about how i am starting a "little princess Luna's barkvice" service for all the fur friends out there. let me explain one more time in case you missed it. if you have a question about anything and need some barkvice (advice), send a pee-mail to: littleprincessluna@yahoo.com. i will answer your question in my daily posts.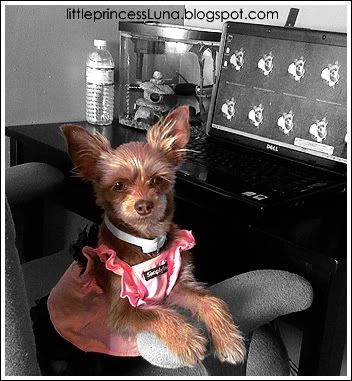 we have one question already (very exciting!!) and it reads:
"Dear Princess Luna,
I have a question about Love for you.
What should a big guy like myself do when he sees a beautiful little lady's picture on the internet, and he doesn't know how to get her attention?
She's a real looker and I'm afraid my bigness might scare her off. I really am a gentle kind of guy.
Any advice would be greatly appreciated.

Leonardo."
i suggest you make a cute post on your blog to show how much you think this little lady is special to you. what girl doesn't want the world to know how much she is liked/loved or asked out in this doggie blog world of ours? remember to be creative, romantic and funny. i am very sure that will get her attention!
don't have a blog? maybe create one? take pictures and write about your everyday adventures so she can see the big yet gentle type of guy you really are.
remember that long distance relationships need lots of time, words and pictures.
so remember, if you need help, don't think twice--send Luna a pee-mail!