oh that little brofur of mine thinks he is so clever.... *rolls eyes*
but he's not! i know he didn't really go help out mum and dad with MUD and i know he was on my blog because i just saw his post (duh). plus, there is dry slobber and white hairs all over the laptop. i guess for now i will let it slide since it looks like most of you enjoyed his shenanigans.
so after taking sid out for "mud" yesterday, mum took me out for our daily stroll. it was a bit sunny so she told me i had to wear a hat and sunscreen: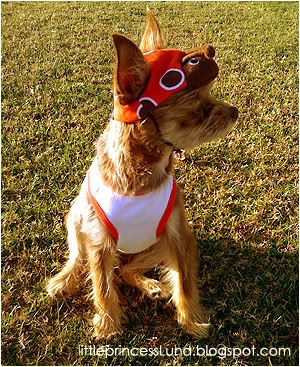 i do enjoy my little ladybug hat, but i hope i don't look silly....
p.s. Lady Cheyenne passed on a few days ago.
Leo and his family are ok and they thank everyfurry that prayed for them and Lady Cheyenne.
Rest In Peace Lady Cheyenne~