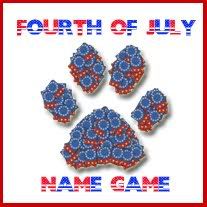 random info: Luna is the Latin word for moon, and was the name of Roman goddess of the moon, who is usually identified with the Greek goddess Selene.
when i was about 3-4 months old, my mummy took me in and adopted me. (i was given to a young girl that just didn't have time for me.) my name was already Luna at that time. mum wanted to change my name to something else, like "chloe" or "fifi", but decided to keep "luna" because it was different and you don't really see a lot of luna chis out there in the parks. she also liked the name Luna because she says that my face is lighter than the rest of my body, so it reminds her of the moon in the dark sky. the funny thing about my name is that mum and dad only call me by "luna" when i am in troubles. other than that, they prefer to call me by my nicknames: mamasita, mamas, mami, princess, little one, minnie mouse ears, and gremlin (dad is so mean--i do NOT look like a gremlin.)
nothing super special, but that's my story everyfurry.

have a safe and happy 4th of july everyfurry!!