mum and little miss prissy are at the mall (worst place evers) so i am gonna tells you all abouts what happened to me a little bit ago.
ok, so dad and mum woke me up early and said we was gonna go somewheres cool (like the river to swims or maybe the park to chase other furends or maybe for a long walk wheres i can leaves lotsa pee-mails and sniff poop and all that manly stuffs):
boy oh boy i can't waits!!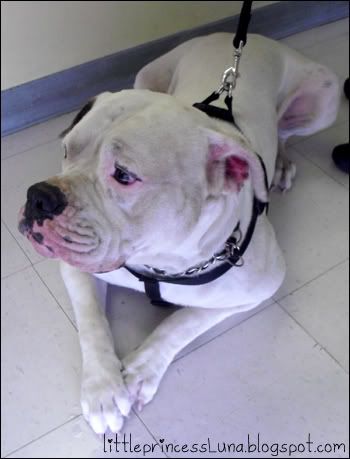 then, i found myselfs at the doctors house!! what is going on!? i only rolled in the dirt for a littles, i promise not to do its again (maybe)!!!! i heard a lady call my name and dad made me walk:
(i wasn't afraids, i was just walkin' reaaaaally slow so's dad and mum could keep ups with me--i'm not ascared of anythings because i am a dude and dudes are super manly.)
after that, the doctor checked my most beautimous ears and said that my white ear has a little infection--isn't that most cool!? i have an infection--you can't get more manly than that! :)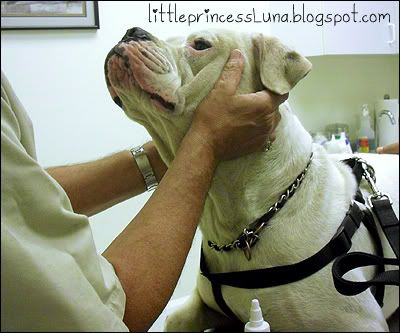 he told my pawrents that i most likely gots it from rolling in the dirt. he gave me a shot (i didn't even squeak), some medicine to take home and some treats (vitamin pet tabs) because i was so grown ups and didn't make a big scene.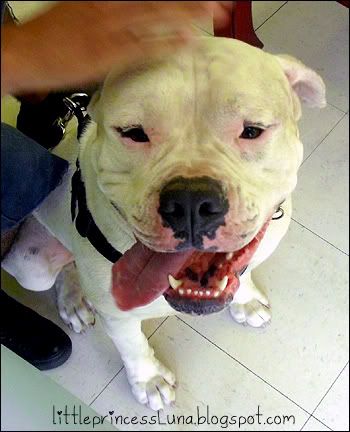 don't worry ladies, i will live and i am still super handsome!!