ok, so today i am going to talk to you all about my pawrents!
let's start out w/ daddi:
my daddi's name is mr. R and he is in his 20's (that's pretty old).
his great grammy (from his mum side) escaped from a concentration camp called
auschwitz
and a very long time ago, a grampy of his (from his dad side) rode w/
pancho villa
.
daddi has always loved cars (especially the fast zoom zoom ones) and how they work. he is going to school full time so he can work for nascar/formula 1.
do your pawrents remember this movie called "The Bucket List"? dad helped restore that red car:
(before)
(after)
isn't that cool?
oh--and he boughts me and mum this Turbo 1978 datsun Z race car:
dad said the he is gonna make this Z car more pretty, but i think it's pretty already!
here, dad (the little man on the left) is working on the Z.
::::
on to my mummy: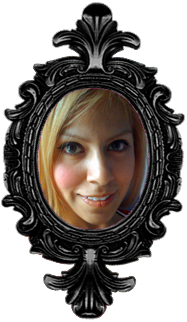 my mummy's name is ms. J and she is her 20's.
she was born in california but moved to this little cowtown called
dodge city
when she was bout 8 or 9. when mummy turned 19, she moved back to california because she can't see herself anywhere else.
she absolutely loves the city!
mum is an artist and has been drawing since she was a baby. she loves all that is art, photography and enjoys museums of all sorts.
mummy has always cared for animals and will start school soon so she can become a dr. but, the two things mummy loves the most are fashion and dogs, so opening a pet boutique is her ultimate dream come true. she is saving green papers so she can buy a store and she says that she will let me work with her as a personal shopper for our future clients.
there you go everyfurry--my pawrents!
♥luna