it's another scorcher today for our part of california furends!! i hope you are all staying cool! mum hosed down my big sister and little brofur and they are laying under the shade in the cool dirt. she is not very pleased w/ them laying in the dirt because they are all muddy now--but, if it keeps them cool, then that is what matters the most.
as for me....mummy bought me this funny looking piece of clothing called a swimsuit:
and she took me into the pool w/ her! i usually hate water but today, it felt great! i swam around for a bit and lay on top of this floaty thing:
getting my tan on!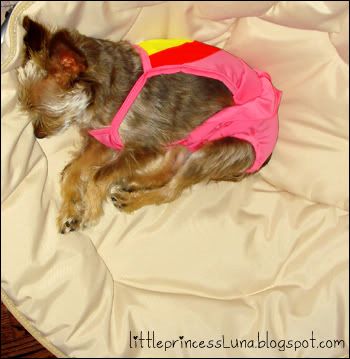 after an hour or more, i was dry and fast asleep....
♥luna
ps. mum will try to get a video of me swimming next time. :)