boy it is hot!
today it went up to 107 degrees here in Los Angeles. mum can't get creative w/ the heat....please excuse her. mum says she can't wait for fall.
we hope everyfurry is staying cool!
i think it's time to give 3 more furends an award!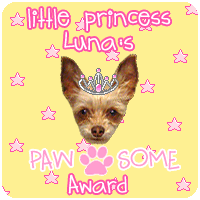 feel free to put it up on your blogs for everyfurry to see!
(if you wanna see what awards i have gotten so far, just click on "my awards~" above.)
♥luna
ps. don't worry everyfurry, mum took my shirt off when it started to get real hot. *wink*