so, mum gave me a bath this morning and it was horrible! i was very sure to let her know i wasn't happy the whole time. i whined and groaned over and over.
she towel dried me, brushed my hair, spritz some perfume on me and then dressed me in my white sundress.
after she bathed me, she took me out for a long stroll and that sure did pep me up.
then mum and dad took me to the store and bought my favorite chewy treats! we also said "hi" to some kitty cats: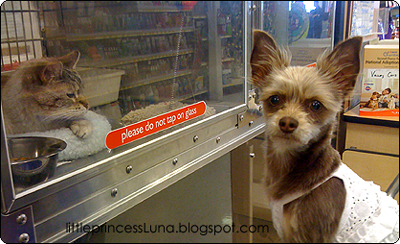 mum and dad thought is was really funny how the cats were bigger than me.
it may not sound like i did a lot, but boy am i pooped!
i think it is because i didn't nap all day....
time to catch up in those z's....