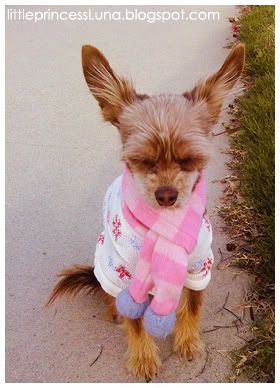 i love my pink scarf because it is so chic and it keeps me warm when i am out on chilly, windy, evening strolls with mum.
mum is trying really hard to teach me to stay still and pose (VOGUE!) when taking snap shots of me. i'm still a model pup on training wheels and well, mum is no pro either--but she tries. we apologize for blurry, grainy, fuzzy, pictures. mum says my pictures will hopefully be better once she gets her dream camera. but, please know we are trying very hard with what we have at the time.
we hope you enjoy our past and future posts!
:)