i'm not sure if anyone noticed (aside from Jemma) that on my shopping trip last weekend, mum and dad bought 2 bags of food. one tiny one and one very big one. the big baggy was for my two bully siblings: coco and sid.
mum says that i have to introduce them even though this blog is all about ME ME ME ME. mum says it can't always be just about me and that sharing is caring. i do care for my little brother and big sister so allow me to introduce them: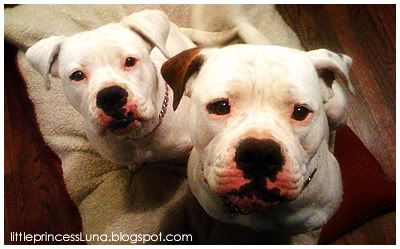 coco and sid (one brown ear) are american bulldogs.
coco is a girl and she is 2 yrs old. sid is a boy and he turned 1 yr old this month (april).
they were both adopted--like me!
mum said that she will try to take more pictures of my siblings to show, but i don't know....it's still MY blog.
(i told ya i was a spoiled princess--hehe.)